Don't Park Your Jag In A Hedge,
Improve Those Brakes!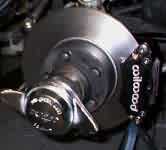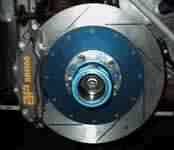 E-type brakes were woefully inadequate from the outset, even by 1960's standards! We can offer upgrade kits for any application, from improved callipers for the standard system through to fully floating vented 15" discs gripped by AP 6-pot callipers! Contact us with your requirements and we will tailor a system to suit you.






Braided Hose Kits





Brake "feel" is often impaired by standard hoses swelling. Braided hoses overcome this and ensure that all of the pressure you apply to the pedal ends up at the disc. These Goodridge kits are TUV approved and carry a lifetime guarantee. All kits come with zinc-plated mild steel fittings. Kits with stainless steel fittings are available for some models, priced £71.00


| | |
| --- | --- |
| Model | Price (per kit) |
| 240, 340 '67-'69 | Price:&pound65.00 |
| Mk2 | Price:&pound65.00 |
| Mk2 2.4 and 3.8S (1964 only) | Price:&pound65.00 |
| S-Type (NOT THE NEW ONE!) | Price:&pound65.00 |
| XK140 | Price:&pound65.00 |
| XK150 | Price:&pound65.00 |
| MkVII '52 | Price:&pound65.00 |
| MkIX '61 | £56.50 |
| Series 1 E (3.8/4.2) | Price:&pound65.00 |
| Series 2 E (4.2) | Price:&pound65.00 |
| Series 2 E 2+2(4.2) | Price:&pound65.00 |
| Series 3 E (5.3) | Price:&pound65.00 |
| XJS 3.6/4.0/Convertible ('83-'91 | Price:&pound65.00 |
| XJS 5.3 '75-'79 | Price:&pound65.00 |
| XJS 5.3 '79-'91 | Price:&pound65.00 |
| XJR 4.0 | Price:&pound65.00 |
| XJRS 5.3/6.0 | Price:&pound65.00 |
| XJ12 '72-'93 | Price:&pound65.00 |
| XJ6 2.8 '69-09/'72 | Price:&pound65.00 |
| XJ6 2.8 09/'72-'73 | Price:&pound65.00 |
| XJ6 3.4 '75-'79 | Price:&pound65.00 |
| XJ6 3.4 '79-'86 | Price:&pound65.00 |
| XJ6 4.2 '70-'09/'72 | Price:&pound65.00 |
| XJ6 4.2 10/'72-09/'73 | Price:&pound65.00 |
| XJ6 4.2 10/'73-'79 | Price:&pound65.00 |
| XJ6 4.2 '79-'86 | Price:&pound65.00 |
| XJ6 2.9 '86-'90 | Price:&pound65.00 |
| XJ6 3.2 '90- | Price:&pound65.00 |
| XJ6 3.6 '86-'89 | Price:&pound65.00 |
| XJ6 4.0 '89- | Price:&pound65.00 |