Tony/Grant williams' Mk1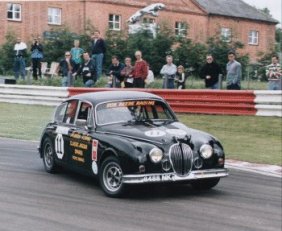 At the end of the 1958 production saloon car series, Sir William Lyons and William Heynes decided that Jaguar should build three modified Mk1 saloons for the 1959 season.
Car One- A right hand drive car in Indigo Blue, sold to Mr Tommy Sopwith
Car Two- Pearl Grey, regd 287 JPK, sold to Mr John Coombs
Car Three- British Racing Green, sold to Mr Briggs Cunningham
All three cars came with 3.4 litre 10:1 compression engines, fitted with straight-port cylinder heads and triple 2" carburettors on a bespoke manifold. The cars also had aluminium doors and bonnet, modified suspension, long range fuel tanks and competition bucket seats.
The Pearl Grey car was delivered new in March 1959 and first raced on the 30th at Goodwood, with Coombs' favourite registration, BUY1. It was driven by Roy Salvadori, finishing second to the Indigo Blue car, driven by Ivor Bueb.
Coombs continued to campaign the car successfully through the 1959 season. In September 1959 the car was sold to Mr AC le Fort and was subsequently driven by Peter Sargent for the 1960/61 seasons.
In 1962 the car was sold to Mr GF Williams, of Risca Garages, who raced the car at club level until 1972, when he had to retire through ill-health. Tony inherited the car in 1984 and it was kept in storage until March 1998, when he was persuaded to restore the car and prepare it for the Goodwood race in September. After a major restoration job, Tony raced the car at Goodwood and finished 4th overall. Tony's son, Grant, already a veteran racer of Mk2's, has now taken over driving the car. Look out for them at the Goodwood events this year.
---