Head Gaskets
3.8/4.2 Composite Head Gasket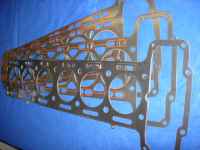 Our new range of performance head gaskets are available in a range of thicknesses for fine tuning or restoring lost compression ratio. Racing applications of up to 14:1 possible! 3.8 and 4.2 both available in 0.040", 0.066" and 0.120" installed thickness, with bespoke thicknesses available to order. As with many things in life, you get what you pay for.
Price: &pound165.00


Big-Bore V12 Head Gaskets

Specifically designed for our 96mm V12 conversion kit, these gaskets have a fire ring diameter of 98mm and have been found to be suitable for the Lister 94mm engine. 3-ply fully sealed construction as per OE spec. Available for HE and pre HE engines.
Price: &pound360.00 (pair)


All Prices Quoted Are Exclusive Of VAT And Delivery
---