Car History And Spec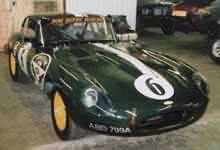 The car was originally supplied to a customer in South Africa in 1963. It returned to the UK in 1989, running but in a sorry state. Mike bought the car in 1992 as a road car, but in 1993 had it prepared for Historic Road Sport Racing and has raced the car ever since in;

HSCC Historic Road Sports

AMOC Anglo-American Challenge

AMOC Intermarque Championship (Class A)


The car won its class many times in Road Sports and during its first season was taken on a European tour, racing at Nurburgring, Stelvio Pass and Rheims, to name but a few. The car ran faultlessly for the 2500 miles covered in the one week, with the exception of one blown fuse!

The car has competed in the Anglo-American Challenge over the last three years. In this highly competitive series it goes head to head with American cars from the same period, many developing 550-600bhp. The E-Type holds its own and indeed finished in the top 3 in every race this year, with the exception of Brands Hatch, where the car was punted off by an wayward (American!) back marker.

The car weighs 1085 kilos dry and has a 4.2 litre engine, developing 340 bhp. It carries a fibreglass bonnet and uprated brakes, within the rules of the challenge.
---